eCommerce platforms have transformed how consumers shop for beauty and personal care products. Among these platforms, Amazon stands out as a dominant force. Beauty and personal care brands cannot afford to overlook the immense sales potential that Amazon offers. Considering its staggering market size and growth, Amazon should be a focal point for brands in the beauty and personal care product category.
The Enormous Sales Potential on Amazon:
The sales of beauty and personal care products on Amazon are staggering. According to SmartScout, the estimated monthly sales for the overall category amount to approximately $2.45 billion ($29.4 billion annualized), with a remarkable growth rate of 23.3% over the past 12 months compared to the previous year. These figures highlight the significant revenue potential that brands can tap into by leveraging Amazon's platform.
A Slice of the Lucrative Market:
Online sales play a pivotal role in the Beauty & Personal Care market. According to Statista, online sales are projected to generate 36.6% of the total 2023 revenue. Considering the market's estimated revenue of US$91.41 billion in the same year, Amazon is expected to capture approximately 28% of the total US Beauty and Personal Care market. This indicates the substantial market share Amazon commands in the industry, making it a crucial channel for brands to focus on and develop.
Amazon organizes the Beauty and Personal Care category into 11 major subcategories:
According to SmartScout 78% of the revenue in this category is generated by 3rd Party Sellers (Private Label, Wholesalers, Retail Arbitrage) and the balance of 22% is sold directly by Amazon 1P.
| | | |
| --- | --- | --- |
| Category | Monthly Revenue Estimate | % of Total |
| Hair Care | $760M | 31.0% |
| Skin Care | $573.6M | 23.4% |
| Tools & Accessories | $220.7M | 9.0% |
| Makeup | $174.9M | 7.1% |
| Foot, Hand & Nail Care | $171.9M | 7.0% |
| Oral Care | $159.3M | 6.5% |
| Shave & Hair Removal | $137.9M | 5.6% |
| Fragrance | $115.5M | 4.7% |
| Personal Care | $105.8M | 4.3% |
| Self Service | $29.5M | 1.2% |
| Specialty Stores | $1.5M | 0.1% |
| Beauty & Personal Care Total | $2.45B | 100% |
As of May 25, 2023, Mighty Patch from Hero Cosmetics is the number one bestselling product listed on the Amazon Best Seller Ranking Chart in the Beauty and Personal Care category. According to Smart Scout, on May 23, 2023, this ASIN had an estimated monthly revenue of $1.63 Million, an estimated unit sales of 148,632 units, and an estimated trailing 12-month revenue is $27.9 Million.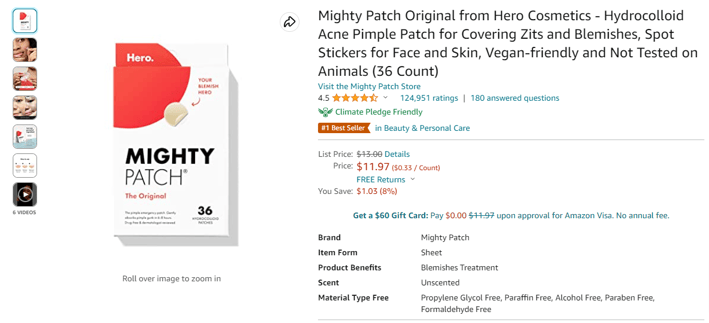 Adapting to the digital landscape is crucial for brands to thrive in the rapidly evolving beauty and personal care industry. Amazon's dominance as an e-commerce giant provides unparalleled opportunities for beauty and personal care brands to expand their reach, connect with a vast consumer base, and achieve substantial growth. Embrace the power of Amazon and position your beauty and personal care brand for unprecedented success in the digital marketplace.
We Can Help!
Phelps UNITED is here to provide expert guidance on your Amazon selling strategy and brand advertising tips, explore our website to learn more.