Amazon Prime Day, the biggest online shopping event, has been growing in popularity since its launch in 2015. It has become a major opportunity for Amazon sellers to boost traffic and sales. In this article, we will explore how Amazon Prime Day impacts sellers in the US and discuss some strategies for succeeding during this high-stakes sales event.
Impact of Amazon Prime Day on Sales:
According to Amazon, last year, the two-day event generated a record-breaking $12 billion in sales for Amazon, up from $11.9 billion in 2021. Prime members purchased more than 300 million items worldwide with top-selling categories, including consumer electronics, home appliances, and beauty products, where Prime members in the U.S. alone purchased more than 60,000 items per minute.

Besides increasing sales, Amazon Prime Day can potentially drive substantial traffic to sellers' listings. Sellers should identify the audience that tends to make purchases during Prime Day and ensure that their listings are relevant enough to reach a broader audience and expand their customer base. According to Numerator, the shoppers during the 2022 event were predominantly high-income females.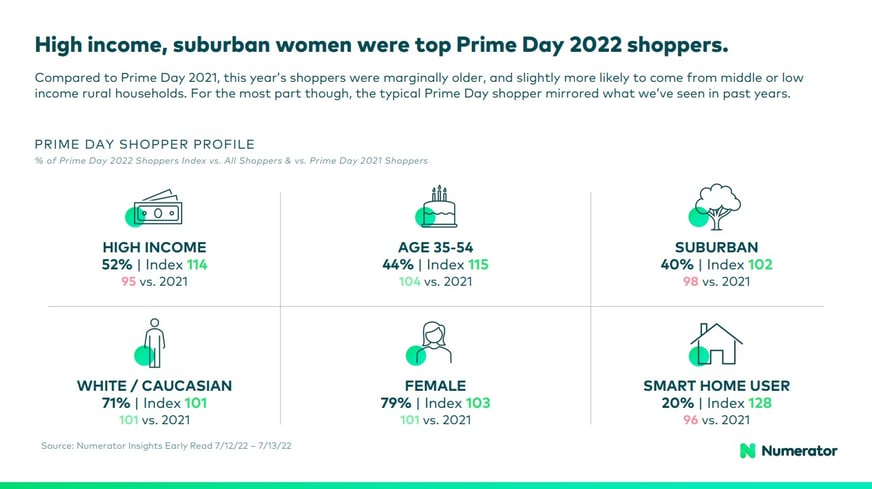 While Amazon Prime Day can be a lucrative opportunity for sellers, it is also a complex and highly competitive event. Sellers must contend with a wide range of challenges, including increased competition, changing consumer preferences, and shifting algorithms. In addition, Amazon imposes strict guidelines and requirements for participating in Prime Day, including deadlines for submitting deals, strict performance metrics, and pricing rules.
How to Determine if an Amazon Seller Should Participate in Prime Day?
There are several factors that Amazon sellers should consider when deciding whether or not to participate in Amazon Prime Day. Here are a few key considerations:

Product Category: Prime Day tends to be more popular in certain product categories, such as electronics, home goods, and fashion. Sellers in these categories may see a greater benefit from participating in Prime Day than those in other categories.

Sales History: Sellers should review their sales history to determine if they typically experience a sales boost during Prime Day. This can help them determine if it's worth the investment of time and resources to participate.

Inventory Levels: Participating in Prime Day requires sellers to have sufficient inventory on hand to meet demand. Sellers should review their inventory levels to determine if they have enough stock to support a potential increase in sales.

Marketing Budget: Participating in Prime Day often requires additional marketing spend to promote deals and promotions. Sellers should review their marketing budget to determine if they have the resources to invest in Prime Day marketing efforts.

Competition: Finally, sellers should consider the level of competition in their category during Prime Day. If there are a lot of other sellers offering similar deals, it may be more difficult to stand out and see a significant boost in sales.
Advice for Key Roles:
Here is some advice for each of the key roles within a brand that are more likely to be involved with Prime Day:
Marketing Manager: To succeed in this role, the Marketing Manager should begin planning for Prime Day well in advance, working closely with other departments to ensure a coordinated approach. They should also stay up-to-date on Amazon's guidelines and requirements and be prepared to adapt their strategy quickly in response to changes in the market.
Operations Manager: To succeed in this role, the Operations Manager should work closely with other departments to develop a comprehensive Prime Day plan, and be prepared to adapt quickly to changing conditions. They should also have strong organizational and communication skills, and be able to manage multiple projects and priorities simultaneously.
Sales Manager: To succeed in this role, the Sales Manager should be familiar with Amazon's algorithms and performance metrics and work closely with the company's marketing and operations teams to ensure a coordinated approach. They should also be able to analyze data and make strategic decisions based on market trends and customer behavior.
Strategies for Succeeding on Amazon Prime Day:
Despite the challenges of Amazon Prime Day, there are basic strategies that sellers can employ to increase their chances of success. Some of these strategies include:
Amazon Prime Day is a major opportunity for Amazon sellers in the US to increase sales and reach a wider audience. However, success during Prime Day requires careful planning, competitive pricing, and strategic optimization of product listings. Amazon sellers can make the most of this high-stakes sales event by having a strategy and staying up-to-date with Amazon's guidelines and requirements. It's important to remember that participating in Prime Day requires a significant investment of time, resources, and money, so it's important to carefully evaluate the potential benefits and drawbacks before making a decision.
We Can Help!
Phelps United is here to provide expert guidance on your Amazon selling strategy and brand advertising tips, explore our website to learn more.